Prepare Now for The Flu
The obvious things you should do........
What Can You Do to Protect Yourself?
From a personal standpoint, practicing good hygiene is still our best line of defense. Be sure to:
Wash your hands frequently.
Cough or sneeze into your elbow, facing the floor.
Avoid sharing utensils and cups.
Stay home as much as possible should an outbreak occur.
The not so, obvious things that you can do to strengthen your Immune System to avoid catching the Flu.....
1. Get plenty of rest.....the average sleep hours that is recommended everyday is 8 hours a day but, getting more is not going to kill you but, will strengthen your Immune System.
2. Drink plenty of water.......make it filtered water and 8 to 12 glasses a day is great for cleansing your body and keeping your skin hydrated and young.
3. Eat right ......eat your veggies.....they say 5 serving of fresh veggies and fresh fruits everyday will keep your Immune System strong.
4. Avoid refine sugar of every kind.....stop putting sugar in your coffee, tea. Stop drinking pop, eating cookies, pasta, candy, ice cream, chocolate anything with sugar....instead if, you want sweets eat fresh fruits......(It is not going to kill you to avoid sugar for a couple months until the flu season is over!!) But, the flu can kill you..don't you be one of them!!!
5. Avoid all milk products! Contrary to popular beliefs milk is actually very bad for you. It creates mucus in the body.....which will lower you body to fight disease. You need calcium in your diet eat foods rich in calcium or take a calcium supplement. You have cereal, coffee in the morning use rice or coconut milk....much more healthier for your Immune System!!
6. Now there are other obvious things to avoid like smoking, drugs, alcohol etc......
7. NOW ......You want to boost up your Immune System apart from all of these...You don't have to take the flu shot to successfully beat the flu. There are many problems associated with taking the shot. Carefully choose your options before making your decision...But, this option has worked for me in strengthening my Immune System for fighting cold's and flu's as well as helped others and it may help you. When it is comes to sickness I either don't get sick or it is short lived.......24 to 48 hours. And it may help your Immune System the natural way against the bacteria and viruses, molds and fungi that make you sick....See Below
Arm Yourself for the Cold & Flu Season
with "The World's Finest Doctor Formulated Vitamins and Supplements"
Olympian Labs Vitamins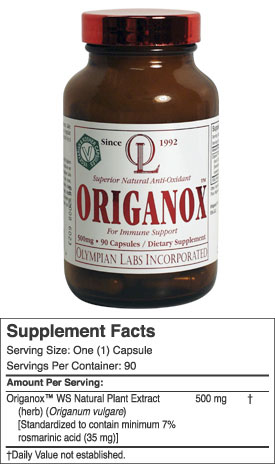 Origanox - 500 mg, 90 VitaVeg Caps, Click Here
Origanox is the trademarked name for a natural, completely water-soluble, powerful antioxidant, extracted from Origanum vulgare, commonly known as oregano.

The active ingredient in Origanox is rosmarinic acid. Origanox is standardized to no less than 7% rosmarinic acid. Rosmarinic acid is also the active ingredient in rosemary and gives the capsules a pleasant aroma.

Rosmarinic acid exhibits significant capabilities as:
• a free radical scavenger
• an anti-inflammatory
• an anti-allergenic
• an anti-microbial nutrient.

Rosmarinic acid is known to be well absorbed through the gastrointestinal tract and also crosses the blood-brain barrier, which may have important therapeutic implications for certain brain diseases such as Alzheimer's and Parkinson's Disease.
Rosmarinic acid is a strong antioxidant and may inhibit the development of cancer. The antioxidant capacity is considerably higher than vitamin C or vitamin E. Likewise, rosmarinic acid may be involved in delaying the aging process.
Rosmarinic acid's anti-inflammatory activity has been proven clinically and therefore may be used in the therapy of allergic inflammations and the common cold. Rosmarinic acid is excellent for cough, cold, flu, and chest congestion.

Suggested Use:
As a dietary supplement, take one capsule, two or three times daily at regular intervals, preferably with meals, or as directed by a healthcare professional.

TOP 10 Reasons to Supplement with Origanox:
1. Powerful antioxidant for the brain.
2. Water soluble: crosses blood-brain barrier.
3. Completely natural and non-toxic
4. Effective in very low dosages
5. Remarkable anti-inflammatory
6. Anti-allergenic
7. Anti-aging supplement and strong free radical scavenger
8. Anti-microbial, anti-fungal, and anti-carcinogenic.
9. Great for skin health (elasticity).
10. Expectorant for cough, cold, flu, and chest congestion

Olive Leaf Extract - 60 Caps., Click Here
Olive Leaf Extract has been used as a cure-all for thousands of years. Its active component, a phenolic compound known as oleuropein, is being recognized as a totally effective and completely safe all-natural healer.
Oleuropein (pronounced oh-lee-or-oh-pin) is a bitter substance that scientists have isolated from the olive leaf. It was found to be part of a compound produced by olive trees that make
them particularly vigorous and resistant to insect and bacterial damage.

Oleuropein's antimicrobial activity occurs when it breaks down in the body to elolenic acid (in the form of calcium elenolate; a calcium salt). The elolenic acid interacts with a target pathogen at a receptor, as a key interacts with a lock. The elolenic acid interferes with the replication process of most pathogens. Once the extract begins to affect the pathogens, the immune system can renew itself to do its job to protect the body from disease.

Olive leaf extract has been shown effective against the following viruses, retroviruses, bacterium, parasites, yeast, protozoans, fungi, molds and other microbes and diseases as demonstrated in laboratory testing (including the In Vitro Disk Bioassay method).

Olive leaf extract may also help boost energy levels, aid in the treatment of chronic fatigue and allergies, and is an excellent companion to herbs such as Echinacea and Goldenseal during the cold and flu season.
Independent studies have reported that oleuropein has lowered blood pressure in animals, increased blood flow in coronary arteries, helped relieve arrhythmias and helped prevent intestinal muscle spasms.

Among the most recent research findings regarding oleuropein are:
• Has been found to inactivate bacteria by dissolving the outer lining of microbes.
• Inhibited oxidation of LDL (bad cholesterol) involved in heart and arterial disease.
• May contain antioxidant properties similar to other phytochemical compounds.
• Research is ongoing regarding possible benefits for hypertension, diabetes and heart disease.


Oregano Oil 1.6 fl. oz., Click Here
Latin Name: Origanum valgare Oregano herb has been used as a spice in Europe for centuries. Most significant attributes of Oregano include it's benefits as a digestive aid, expectorant for cough, cold, flu and chest congestion. It is also known for it's antimicrobial and anti-fungal properties. Our Oregano oil comes from the Mediterranean region and is purified by steam distillation. Olympian Labs Oregano Oil is not diluted with olive oil. It is standardized to contain Carvacrol (55%). Suggested Use: Take as needed, four drops daily mixed with water, juice or olive oil. Our Oregano Oil is also designed to be added with your food for extra flavor while experiencing great health benefits. Do not take undiluted as this is a pure oregano extract. Heat sensation is normal. As with any natural product, aroma, taste and consistency may vary.

These statements have not been evaluated by the Food and Drug Administration. This product is not intended to diagnose, cure, prevent or treat any disease.

Other Featured Olympian Labs Products
CLICK HERE TO GO BACK TO HOME PAGE.
© BHawkIndustries 2003